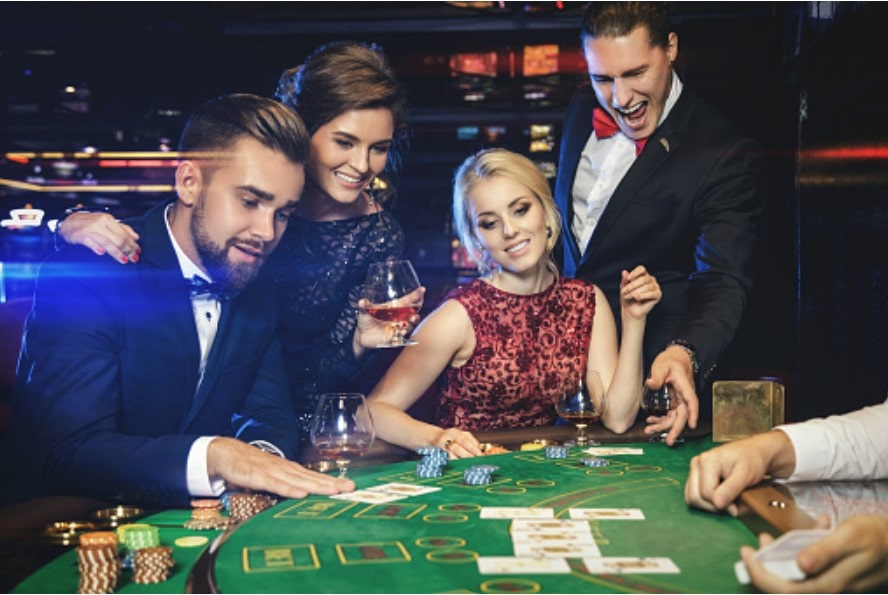 There is no doubt that 21st birthdays are special occasions. The transition of your young adult from childhood to adulthood is a moment that should be celebrated. It can be a very challenging and satisfying experience for parents to watch their child become a legal adult. Now that they have moved into the grown-up world, it is time to help them celebrate this once-in-a-lifetime event.
For most, a 21st birthday party is marked by many firsts, including the first alcoholic drink. While a party focused on drinking may be fun for a while, it's probably not a good idea to make this the central draw of the event. Why not add another adult-only activity, like casino games, to keep your guests entertained and acknowledge the milestone? A casino-themed birthday party could be the perfect celebration for your 21-year-old baby.
Casino night parties perfectly combine class, elegance, and excitement. If you want to give your grown-up kid the proper send-off into adulthood, why not treat them to a night of gaming, eating, drinking, and good times? Let's take a closer look at a few of the reasons to throw a 21st-birthday casino-themed party.
A Night Of Firsts
While most parents might suspect their young adult children may have experimented with alcohol under the radar already, their 21st birthday is the first time they can legally drink alcohol. Sharing a drink with parents and friends for the first official time is an occasion that will always be remembered. You don't want to miss out on this opportunity. 
In most states, you must be 21 years of age to enter a casino and gamble. With a Casino night-themed party, you can introduce your kid to the thrills of the slots and tables. Casino nights take a bit of organizing, but with the right help and some on-theme rentals, your birthday kid and all your guests will have a great time and enjoy playing casino games for the first time together.
One Location
Pub crawl parties are a common 21st birthday theme, and while they can certainly be lots of fun, they are not always the best plan for safe celebrating. When you host a Casino night for your child's 21st birthday, you gain the peace of mind of having everyone safely in one place. You can take things a step further by supplying Uber or shuttle services for guests who will be drinking during the party.
One-location parties make planning for food, entertainment, and drinks easier. There is no need to plan for travel between destinations, arrange different arrival times, or try to fit a meal into the festivities.
Make It A Fundraiser
One of the best ways to honor your child moving into adulthood is through gifts. However, if you are considering a Casino Party, you might want to hold off on the shopping. It's possible to request no gifts from your invitees and instead turn the party into a fundraiser. Rather than wrapped presents, you and your guests can bring cash to play at the tables. Your guest of honor can then donate the funds to their favorite charity.
How To Plan The Perfect Casino Night
Throwing a Casino-themed 21st birthday party will take some diligent planning. This type of party has a lot of different moving parts and details that need to be managed. Let's take a quick look at a few tips to help you plan a successful casino night for your child's 21st birthday.
Hire Dealers
Many of the younger guests at your casino night will have little to no experience playing casino games. To help everyone have a good time and learn about gaming, it's best to hire professional dealers. Hired dealers can keep track of all the gaming action, help newcomers understand the rules of each game, and keep the party going strong.
Professional dealers are most likely to be bonded, meaning that you can trust them when dealing with your guest's cash and chips. This is safer than allowing a stranger or another guest to handle the tables.
Rent Games
No casino party is complete without authentic gaming tables and slots. You can contact your local party supply store specializing in casino rentals for a reasonable package. Some suppliers can also help you find professional dealers for the games. Most party supply companies will transport your chosen casino games and set them up at your venue.
Complimentary Chips
To help get the fun going, offer each of your guests some complimentary chips. Not all of your guests will want to play the games with real money, but having a few chips in their pockets will help them to have a bit more fun. This is a great way to introduce the younger guests to the world of casino games and gambling.
Prizes
A party isn't complete without a few door and theme prizes to round out the night's end. Choose a few fun gifts and categories to entice your guests. For example, you can give a prize to the top winners, the highest slots cashout, and the first-time player award for excellence.
Food & Drinks
Casino parties are not the type of environment that goes well with a sit-down meal. However, you should still plan to have food and beverages for all of your guests. Bring in a caterer to take care of the menu and serving details. You could serve a buffet of appetizers or have catering staff walk through the crowd with food on a platter. 
Your beverages should be served by a licensed bartender that checks everyone's identification for age restrictions.
You could create a special drink in honor of the birthday honoree.
You only get to celebrate turning 21 once so a party is a great idea to welcome it with a party. If you are looking for a way to celebrate a 21st birthday in style, consider these benefits of a Casino-themed party that will thrill your honoree and guests.
Create Your Own Casino Party