Poker Parties
Poker parties could be lot of fun, especially when your guests are poker enthusiasts and who love the indulgence of a poker tournament. Like most other casino parties, poker parties too can be organized by opting for our service in the city you live in. Usually, our experts give you a fixed slot or gaming time, which could be anywhere between 4 to 8 hours or even more. In fact, you can choose to run a professional poker tournament as well, with prize money for the guest who wins the poker tournament.
Poker Fundraiser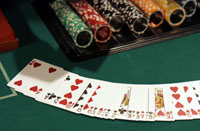 Poker parties are a perfect great way for keeping poker enthusiastic guests entertained. Casino quality tables for playing poker, playing cards, and standard denomination chips are all provided by us. Besides, you can also request for a professional tournament director along with poker dealers for each of the tables placed in the party. Moreover, we can also help with assigned seating to avoid any confusion at the last moment. We also organize similar Poker Fundraiser parties at your preferred location.
The best parties involve everyone. To ensure this happens, we even step out explaining the rules to novices so that they too can become a part of a poker game. Raffle tickets and custom play money can add to the charm of the theme too.
So, if you want you want to jazz up your poker fundraiser or personal poker parties, look no further! Just opt for our resilient Casino Party services, and be we'll do it all for you.