Corporate Casino Party- Give an unique look to your corporate party with amazing casino themes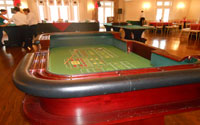 Have you ever chosen a casino theme for a corporate party? If not, you have really missed some real fun! You may entertain you clients with after a long day's work with some shuffling of cards and bounce of the dice, by arranging a real casino at your party. For a finest quality casino theme, the best people to contact would be the casino party and entertainment company who will give you every feeling of being in a casino with quality casino tables, appropriate equipments and properly dressed croupiers. The entire atmosphere thus created will encourage your clients to participate in the games arranged and that will increase the level of fun and excitement in the party. For an even more real environment all around you may ask your clients to be dressed like casino Royale or flashy garments, usually put in the casinos of Las Vegas. The company has relevant experience in serving some of the well known corporate house with their dedicated services. So do not waste any more time and confirm your bookings right now with the ace company to give an unique look to your corporate party and make the event even more successful and entertaining.




Frequently Asked Questions
How do you make a successful corporate casino party?
Steps to make a successful Corporate Casino Party:
Find a Professional Casino party provider.
Come up with a theme that everyone will enjoy.
Get some awesome prizes and tell everyone about them.
Trust your casino night company to entertain all of your guests.
What are some good tips for a casino host at a corporate event?
Good tips for a casino host at a corporate event:
Do not overthink the party. Usually, less is more.
Focus on getting the most professional Casino Provider.
2-3 big prizes are a lot better than 10 smaller prizes.
Have some music playing during the casino event.
Have Fun.
How to decorate for a corporate casino night?
Most Professional Casino Party Providers should have decor you can rent. Large cards, Big dice, Red Carpet with stanchions, are the most popular. Get some amazing centerpieces. Slot machines add to the decor as well. The tables themselves when they are casino grade add to the overall feel of the event.