Casino Party New York
The city that never sleeps is the perfect backdrop for a casino party.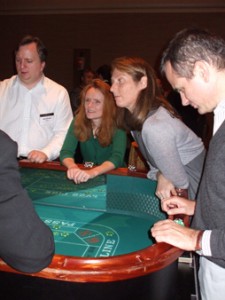 Casino Parties LLC offers the people of New York authentic casino party rentals that are guaranteed to turn any event into a memorable party. Whether you are throwing a private party or a large fundraiser, our rentals can transform your event space into a casino in Las Vegas.
Winning Big with a Casino Party
A casino themed event is perfect for a party in the city because it offers enough glitz and glamour to impress any guest but it incorporate high stakes and lots of fun right into the event.
At Casino Parties LLC we can deliver a fully-fledged party service. Our staff have decades of casino experience and know how to create the exciting atmosphere of any casino. In addition to our dedicated staff, we offer world class party rentals. Some of the casino tables we offer include:
Blackjack tables
Roulette tables
Roulette displays
Craps tables
Slot machines
Big Parties in the Big Apple
We offer all of the casino rental pieces that you need to throw a magical night whether you are throwing a party in Brooklyn, Manhattan or Long Island.
If you want to create a special experience for each of your guests, we can provide that, too. We offer staff photographers to capture those memorable moments at your party. We can even print you personalized money for guests to take home as a souvenir.
In addition to these fun extras, we are also able to accommodate themes. If you are looking to throw a 20s themed casino party, we can even help you put up all of your decorations.
Casino Parties LLC offers each and every one of our customers the best rentals, the best services at the best prices. To get started planning your next casino theme evening, call Casino Parties LLC today at 1-(888)-340-1873.