Casino Fundraiser Party
A casino fundraiser party is a very interesting way of raising funds for an event, team or a person. Consecutively, we offer the benefactors that look and give the feel of a Las Vegas casino, allowing the guests to enjoy an eventful evening while donating money for a good cause. On the outset our offerings include casino quality raffle tickets, gaming tables, and standard chips etc, specialize at creating the right ambience for a casino fundraiser party. From casino managers & experienced dealers to casino hostesses and poker tournament directors, we leave no stone unturned to entertain your guests, and give them a true casino-playing experience.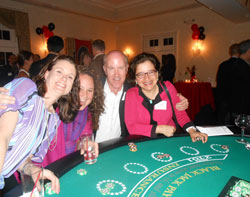 Our fundraiser committee decides the guest list, the betting limits and the chip values, which are then displayed at each of the tables. The idea of this party is for guests to have fun, while making generous donations to the fundraising cause. Real currency is avoided at such events. Each of the guests are handed a fixed amount of Casino scrips or chips that sets the target on how much they can indulge in the casino games throughout the evening. The event can be spiced up through tournaments like Texas Hold 'Em poker tournaments.