Casino Theme Party
A casino theme party as the term suggests is a party where you give your guests a real-life casino experience. These parties can be organized with all kinds of themes like pirate parties, aqua parties and beach parties. Casino nights are popular because they offer unmatched entertainment and promise night-long fun. Like all other parties, casino parties too, have their own sets of rules. For example, there is a dress code which usually includes tuxedos and suits for the men and cocktail gowns for the women. You can pick up James Bond movies for inspiration, when it comes to setting the rules for dressing.
Casino Nights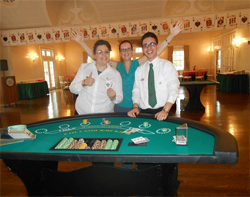 Black, red and green, are the most popular colors, as far as decoration is concerned. Being well versed with the party themes, we provide professional dealers for casino games like blackjack and roulette, so that your guests can be thrilled with the casino experience. There are standard denomination chips provided as currency. The dealers are trained to be entertaining while being well versed with the rules of the game. The hosts can even request for standard tournament wear for a more formal look. As experienced Casino theme party organizers, we also help with other requirements that include tables, chairs, casino equipment e.g. the roulette wheel, staff, theme décor, beverage and bartenders.
Contact us for further information on planning your special event for Casino Nights.