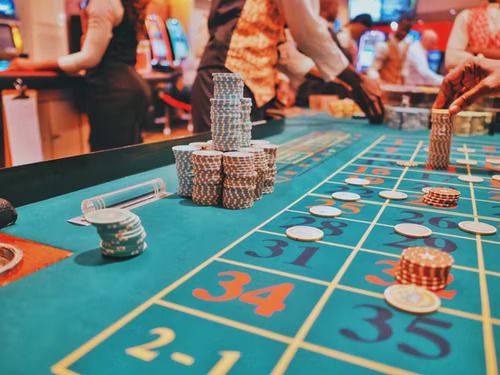 A Monte Carlo Night Fundraiser is a fun event where guests can get dressed up and experience the atmosphere and excitement of a casino while raising funds for a charitable cause.
Such an event may feature a catered dinner, live auction, games tables such as poker, craps and roulette as well as professional croupiers and dealers to run the games. For the price of a ticket, guests will receive a certain amount of casino chips which they can use to play games, and if the house rules permit, purchase more chips if they run out. However, unlike a real casino, no actual gambling takes place and the chips or money used do not have real cash value.
Below are some tips to ensure your Monte Carlo Night Fundraiser is a success.
Raise Money
When pricing your tickets, think about all of your expenses. You can price your tickets in tiers to differentiate between those who want to attend a formal, catered dinner and those who do not. Your top ticket price may be expensive, but can add an air of exclusivity to your event and also attract some affluent supporters of your cause.
As the goal is to raise money a balance must be struck between making your event look and feel appealing yet staying within your budget. A good way to do this is by arranging press coverage and asking celebrities and public figures to show their support by attending on the night. Rather than purchasing prizes and giveaways, encourage generous donations from invitees, local businesses and corporate sponsors.
Instead of paying for guests to have dinner, ask local restaurants if they would be willing to donate their staff for the evening or cater your whole event. In exchange, offer to add their logo to your invitations and marketing material and credit them in your speeches and dealings with the press.
Hire Professionals
To give your event an authentic feel and ensure everything runs smoothly, it's important to hire the right staff and equipment. A casino rental company such as casinopartiesllc.com, can provide genuine gaming tables, experienced dealers and other extras to give you and your guests the most seamless experience.
Unlike a poker night in your living room, a large-scale event such as this requires the correct setting up of equipment such as slot machines and gaming tables which include poker, blackjack and baccarat. Professional dealers with knowledge of each game can explain the rules to make sure the games are played correctly and that guests are getting an authentic casino experience for the night.
Publicity
Draw attention to your event by making sure to publicize it well beforehand. Contact the local press for media coverage and use social media channels to get the word out about your upcoming Monte Carlo Night Fundraiser.
A press release which gives information about your charitable cause, as well as details of your evening and any highlights, is recommended. Make sure to mention any prominent guests and contributions from sponsors and supporters. Include your contact details, the date, venue and time of the event as well as ways to purchase tickets and make donations. This should all be done well in time for your fundraiser.
With these tips, your Monte Carlo Fundraiser night is sure to be a success!
Create Your Own Casino Party